Serving the High Desert area of San Bernardino County since 2000 with the purpose of deterring youth from the dangers of early onset use of drugs. We serve all young people, with a specific emphasis on foster youth, people of color in the probation system, and youth living in poverty. The two main programs are drug prevention and intervention. Frank Kelly is Founder/CEO and creator of the "A Way Back Intervention Process, a Sensible Intervention Process Plan". A program for harm reduction, substance use and misuse for youth and adults. Frank is the author of the prevention song "Say it Loud, I Need No Drugs affirmation rap song which encourages youth to stay in school.
To educate youth and young adults about the consequences of substance misuse and harm reduction.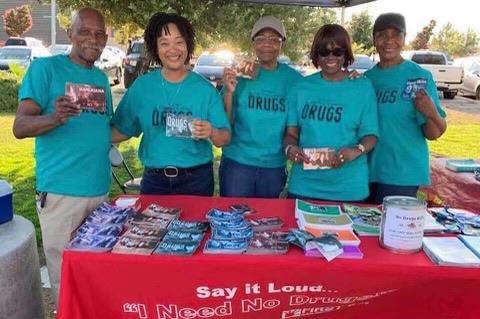 Working with these young minds through our program  and seeing their level of commitment to complete the process.
Frank Kelly is the Founder and Chief Executive Officer of No Drugs America Association, Inc. which he founded in the year 2000. He is Community Leader who has volunteered and worked in the field of Substance Use Prevention and has spent the past twenty years as a learned professional in this field and is dedicated to with our kids' preschool through high school, especially our youth of color by educating parents and kids through primary prevention and harm reduction intervention approaches and strategies to address problematic use, misuse, abuse for those using illegal or legal substance such as alcohol, marijuana, opioids and other substances.
Frank Kelly attended San Bernardino Valley College studying primary drug prevention strategies where he excelled in his studies. He has a Diploma from California Association of Addiction Recovery Resources, CAARR Institute for Social Model Studies for Alcohol and Drug Counseling. He is a Certified Drug Prevention Specialist from the Dug Free World Foundation.
He has attended The California Addiction Training and Education Series "CATES" sponsored by UCLA Integrated Substance Abuse Programs the Pacific Southwest Addiction Technology Transfer Center, Matrix Institute, the Los Angeles Practice Improvement Collaborative, and the Clinical Trials Network, Cognitive Behavioral Therapy Practitioner, Certified Mental Health First Aid Specialist, Certified Human Trafficking Advocate
Member of California Consortium of Addiction Programs and Professionals CCAPP and continues to update his professional knowledge through online studies with NIH National Institute on Drug Abuse learning about the science of substance abuse and addiction.
He is the Creator of the "A Way Back Intervention Process, A Sensible Intervention Process Plan" for Harm Reduction, substance use and misuse for youth and adults with special focus people of color in the probation system. He is the Author of the prevention song "Say it Loud, I Need No Drugs affirmation rap song which encourages youth to stay in school!
Frank is a former member of the San Bernardino County Red Ribbon Committee for drug prevention, High Desert Addiction Awareness Coalition, and a current member of the High Desert Community Coalition, Community Assistance Network High Desert Partnership for Kids Collaborative, Community Prevention Institute for Applied Research Solutions, SAMHSA's Prevention Partners, and the Community Anti-Drug Coalition of America. He also currently serves on the Executive Board of Directors for the San Bernardino County Wide Drugs and Gangs Task Force, and on Advisory Board Member for San Bernardino County Superintendent of Schools and Founder of the P.A.C.K Coalition (Positive Alternative Choices for Kids) a group of professional men and women who go out to schools to inspire and encourage kids that "It is Cool to Go to School"!
Frank Kelly is a Drug Prevention Specialist and has nearly twenty years' experience in the Alcohol and Other Drugs (AOD) field and is a substance use prevention and human services professional, advocate, and group facilitator. He has no doubt that and by using eclectic proactive approaches such as individual and environmental strategies we can save many lives and reduce the rate of harm associated with substance use.
Frank Kelly has been a champion for the High Desert Communities No Drugs America Day, now the No Drugs America/No Drugs Kids Day which he started in the year 2003 to educate parents and youth about substance use and misuse  and has been recognized by the Cities of Adelanto, Barstow, Hesperia, Jurupa Valley, Phelan, Victorville, the Town of Apple Valley and also by the San Bernardino County Board of Supervisors, California State Assembly and Senate, the California Governor's Office, United States Congress and Senate and even the White House an event which has been attended by thousands of parents and kid since its beginning.  He has also received local peer honors from The Eloise Gibson "Award of Commitment", "Volunteer Recognition Award" from the High Desert Community Coalition, "Award of Achievement" from Apple Valley Head Start, Community GEM Award from High Desert Delta Sigma Theta for his work in the community with children, The Home Depot "Home Town Hero Award", Community Partner Certificate from San Bernardino County Sheriffs, Hesperia, and Dreamers Visionaries, and Leaders Award recipient and "Shine the Light on Child Abuse Award by San Bernardino County, Alpha PAL of the Year Award from Alpha Connection Youth and Family Services, Certificate of Appreciation Award for Hesperia Parks and Recreation for No Drugs America Day Event and many other accolades for his work in the community from numerous local, state and national officials.
Frank Kelly and No Drugs America Association, Inc. just received accolades after being away from promoting its Annual No Drugs Kids Day due to the Covid-19 pandemic recognition from the Town of Apple Valley, CA, the California State Assembly, and the US Congress for their efforts to educate our youth to about substance use harm reduction as it relates to equity and equality.
Since its inception his organization has given away hundreds of bicycles to needy youth from preschool through high school he gets through donations from local businesses and individuals because he remembers as a child raised by a divorced mother it was a long time before she could afford a new bike for him and how good it felt to him to finally receive a brand-new bike. It is so satisfying to see the joy on those young people faces when they get that bike.
Frank is married and has been with his wife for over forty years and has three daughters, a grandson and daughter and lives in Victorville for over twenty years. Frank is a "Man About Town' and has been referred to some of his peers affectionately as the "High Desert Mayor" although he lives in the City of Victorville. He has run for city council twice and is always as active as he can be around the High Desert area helping and encouraging others.
Born in Mississippi in 1951 he has seen racial disparities and injustices up close and personal but continues to be optimistic that one day as Martin Luther King, Jr said hopefully we will be able to sit down at the table of brotherhood and join hands together and understand that we are in this life together as brothers and sisters. We are in this life help one another where we can! We are in this life to love one another all we can. He joins with and helps sponsor the Matin Luther King< Jr, Annual Commemorative Peace March in the City of Victorville and once help lead the charge with the High Desert Black Heritage Committee to Celebrate "Junteenth" in the City of Victorville which is now a National Holiday for all recognizing the final liberation day of all slaves. He likes to quote the late Bishop Nathaniel Ruffin, who founded the Black Heritage Committee and said, "there is no community until we find unity"! He continues on his mission with his "deepwaterministry" outreach to be a voice in the community for unity and work with all people no matter what race creed or color and do all he can to be a person who cares about people!